What is the most important thing in your life?
Family?
Love and Relationships?
Health and Fitness?
Career?
Finance?
Personal Growth?
All of the Above?
This question always ends up in answering the 'all of the above'.
If you are experiencing issues in one or more areas of your life, most often there is one KEY factor that will get you on track.
Communication. To be successful in any or in all of the above areas we have to
learn good communication.
One of the presuppositions of NLP is,
'We are always communicating'
Good communication doesn't come just by thinking about it or speaking nicely. 'Yes' it is possible to improve communication with constant minding, but if we learn the tools and techniques of how to generate good communication then it becomes an effortless, constant success.
Communication is always happening. Information is always coming in. You are always thinking. You are always processing information. You are always reacting to this information. This internal representation, along with your physiology, creates your state. You "feel" a certain way based on the information coming in. Your beliefs based on past experiences, also play a huge role in directing what your state is. This will be a very unique state for each individual who may receive the exact same information as someone else but your reactions will be just as unique for each individual.
Our actions, words, behaviour and body language are all clues to the state we're in.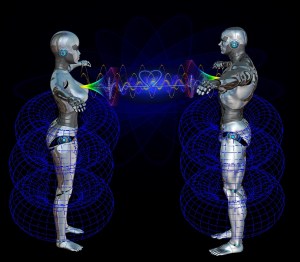 Understanding the state can help you immensely. You can build rapport through understanding state.
In every scenario, business or relationship, with your children or your boss; being in rapport with the other person will empower you at every level. You can put your point of view across without getting retaliation. You will always be the "Go-to" Person, the problem solver, the trouble shooter. Being an excellent communicator with empathy is what everyone wants.
If you are the boss, the mediator, or just amongst friends; you will be well liked and considered approachable, you can direct your people in the most positive way, without getting opposition.
If you want to dive deeper and become a better communicator and have the ability to influence more positively then join us for Success and Empowerment workshop. Get empowered to communicate by learning the verbal and non-verbal cues, eye patterns, how to build rapport, and how to anchor your best, positive emotions to easily conquer any negative situation.
Whether you want to improve your life personally or professionally, learning how to be a better communicator is the biggest step you can take in your journey to success in all areas.
Your life is,
    Your journey and …
              Your finish line!
It's up to YOU where you want it to be…
Register early for our next Success and Empowerment Workshop to take advantage of early bird discount.

Source: Pushpa Bansal
Pushpa Bansal
Pushpa Bansal is an EFT and NLP Master Practitioner assisting clients to live their best life in and around the Niagara Region.
Visit: Website