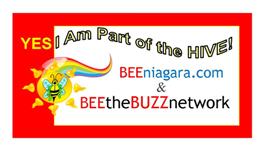 June 13, 2018 - 11:30 am to June 13, 2018 - 1:30 pm
St. Catharines
Are YOU…
– a Small Business Owner, Author, Artist or Entrepreneur?
– just starting your business, re-Inventing yourself, ready to put new life into an established business?
– interested in becoming more Empowered & Enriched personally and professionally?
Have YOU been taking Your Business So Seriously that YOU have forgotten how much YOU LOVED IT when YOU were in the earlier, creative stages…when it felt more like a hobby than a job?
Have YOU forgotten how re-juvenating it is to be with like-minded interested and interesting people, who love to suggest solutions & shortcuts to many of the challenges we all face as Business Owners?
Do You Need a Lunch Out with People Who Get Where YOU Are & Are More Than Willing to Help YOU Solve Your business challenges?
Then it is time for YOU to…Join the BEE Network.
Join Us the 2nd Wed of Month
11:30am – 1:30pm (Sit Down at 11:45am & Order Lunch)
15 Minute Spotlight of Business Insight Presentation
3 Point 30 Sec Intros: Name, Business Name, Catch Phrase to Make Us Want to Know More During Networking to Follow
Bring Hand Outs of Events/Special Offers (60 Sec Talk ONLY)
If you'd like to join, and be sponsored as a member, you can save!. Be sure to mention my name "Karen Hilts". I'd love to have you there!
---
REGISTER FOR EVENT
Joe Feta's Greek Village Restaurant
290 Lake St
St. Catharines